Twin Peaks has returned, but does it meet expectations? theTramp investigates
When Twin Peaks first aired, back in 1990, its impact was monumental. I'm not talking about the impact that it had on television; the realisation that narrative structures could move about a bit, that magic realism could step off the page, that strong characters could lend themselves to unpredictable narrative formats and still be watchable. No I am talking about the impact that it had on me personally.
I was 14 when Twin Peaks aired in the UK and it felt like a show that had been made just for me. I was spell bound from the off. This dark fairy tale had a dead princess, a wicked wizard rather than witch and a handsome prince, or rather investigative officer, in the shape of Agent Cooper. He was never going to rescue the princess in a conventional way, she was dead after all, but he could bring the wizard, her killer, to justice if he could only find him. Along the way the characters he met were as quirky and frustrating as those met in fairy tales. A woman who spoke to a log, a room in another realm with a midget and a giant, a femme fatale dressed as a school girl and of course a murderer who proved to be a spirit rather than a person.
Twin Peaks first aired before the internet. Before you could meet like-minded individuals who could live the other side of the world, or country, or indeed, just down the road. I don't remember media coverage or critical acclaim for the show, but I do remember the frustration that many people felt at its unconventional format and the spin off books and film seemed to add, rather than take away, that frustration. To the mind of my younger self this all added to its allure, to its perfection. This is why I, like so many others I am sure, was a little trepidatious about The Return of Twin Peaks. It was of its time, but also a trail blazer. To return to it now would I see the flaws? Would the reverence get in the way of the fun? Would the quirk be too self-conscious to be anything other than stilted?
I thought that it was best to watch the new series without rewatching the original. Not because it aids comparison, but because it was the memory of the show that mattered to me. So 4 episodes into an 18 episode run this is what I think…
It takes a while to get going
I remember being spellbound from the first episode of the original Twin Peaks. Perhaps this is a lie? Perhaps the original just had a better starting point, a prom queen's murder and a cast of interesting and shocked characters works for most shows after all? Memory aside there is a definite bump or two along the way as the season opens. In part because you are introducing new characters alongside older old ones. In part because this series follows the original televisual and cinematic outings and needs to find its own stride without ignoring past footprints. But mostly because it just lacked humour. Dark and sometimes frightening as the original Twin Peaks was what I remember fondly is that it had a warm beating heart and a strong string of generous gentle humour. We laughed with, not at, the quirky characters and the situations that they find themselves in. Without introducing any spoilers, it's not until one of the characters meets an electronic revolving door that this humour kicks in.
There are a lot of characters
Four episodes in and I am losing track of what feels like an endless stream of celebrity cameos. Blink and you will miss Jennifer Jason Lee, Michael Cera, David Duchovony, Matthew Lilliard and Naomi Watts. It should be charming, it isn't, it's distracting. Twin Peaks was always an ensemble piece, but there were a core handful of characters that you really cared about. It takes time to make an audience care and so far the returning Twin Peaks is taking the audiences interest for granted; it shouldn't.
Kyle MacLachlan is having a lot of fun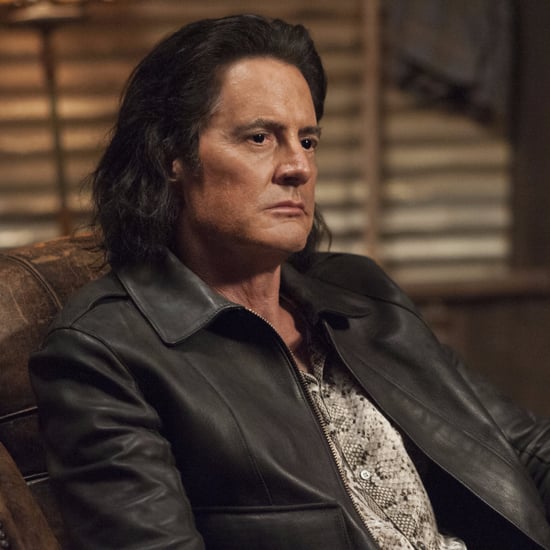 It has been a while since anyone has asked a lot of Kyle MacLachlan; watching this you wish they had asked sooner. He's clearly having a blast in the numerous roles The Return is offering him. There are lines now on his somewhat strangely stretched face that are lovingly lingered upon by the camera and offer more of a sense of the time that has gone by than any number of grey hairs sported by other characters. To say more would be to spoil the surprise, but I think I can offer the opinion that a dazed and confused Cooper brings a much needed focus to these first few episodes. That said I am looking forward to a return to form; bring on the coffee.
Nostalgia is a key character
Sets, credits, music, technology, effects, and characters – all feel or are circa 1990. Considering the audience this makes sense. I can't imagine how confusing The Return must be to anyone who didn't watch the original outings. But mostly it is a conceit, and a conceit I like. This isn't a reboot, it is a revisit and just like when you head home you don't expect the decorators to have come in and redecorated your old bedroom. Lynch plays on this with the odd gag or two; dial up FBI access, the terrifying impact of a mobile phone. Will the nostalgia wear thin? It will be interesting to see where Lynch takes it.
Music
A lot of shows in the 90s and 00s seemed to have guest slots for bands. There would be a reason – a club run by the character, a nightclub that the characters were visiting or just a gig that the characters were desperate to attend, but it always felt shoe-horned in, a way for a studio to cross sell its less appealing to radio acts to a relevant audience. Perhaps the original Twin Peaks did this? I can honestly say I have no memory of it, but four episodes in and there have been three 'bands playing us out' moments. I suspect some people will really enjoy this; I'm not one of them.
Overall verdict
At the end of the first two episodes I was unsure that a returning Twin Peaks worked, but by the end of four episodes I was on board. Yes the dialogue is stilted, the editing brusque, the cameos unnecessarily distracting and yes, it hasn't the impact of the original – but then how could it? Four episodes in and it feels like it has found its stride and unlike some recent returns (I am looking at you recent X-Files), it feels neither stale nor irrelevant; there is a freshness here which, considering how imitated Twin Peaks has been, is an impressive feat.